60ML STRESS LESS LAVENDER MEDI-OIL®
Stress Less Medi-Oil®
Ingredients: 
Lavender Oil, Marjoram Oil, Peppermint Oil, Sweet Almond Oil
Lavender Oil ~ Lavender essential oil is one of the most popular and versatile essential oils used in aromatherapy. Distilled from the plant Lavandula angustifolia, the oil promotes relaxation and believed to treat anxiety, fungal infections, allergies, depression, insomnia, eczema, nausea, and menstrual cramps.
Marjoram Oil ~ Also used as a "nerve tonic" and a "heart tonic," and to promote better blood circulation. Marjoram oil is used for coughs, gall bladder complaints, stomach cramps and digestive disorders, depression, dizziness, migraines, nervous headaches, nerve pain, paralysis, coughs, runny nose; and as a "water pill."
Peppermint Oil ~ Peppermint oil is one of the most versatile essential oils out there. It can be used aromatically, topically and internally to address a number of health concerns, from muscles aches and seasonal allergy symptoms, to low energy and digestive complaints.  It also works as a strong antioxidant, displays anti-tumor actions in lab studies, shows anti-allergenic potential and pain-killing effects, helps to relax the gastrointestinal tract.
Add One Dropperful To Your Bath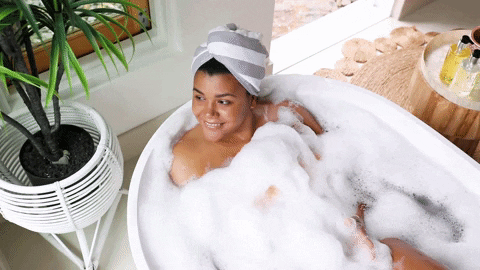 4 STEPS | 4 MINUTES A DAY LYMPHATIC DRAINAGE
FOR USE WITH MAGNET GLOVE
Neck Lymph Nodes ~ Begin with neck, lightly stroke down (don't forget behind your ears!)

Underarm (Armpits) Lymph Nodes ~ Lightly stroke towards heart.

Stomach ~ Move in circular movement (clockwise) for digestion purposes.

Legs ~ Begin with bottom of feet and 

massage upwards against gravity