Lymphatic Fluid Drainage Kit: MAGNETIC MERIDIAN GLOVE & GINGER DRAIN BODY OIL
ASSIST CIRCULATION, 

ELIMINATE INFLAMMATION & WATER RETENTION 
Transport Lymph Fluids To Clear Toxins From The Body That Accumulate Daily

SYMPTOMS OF A SLUGGISH LYMPHATIC SYSTEM
CHRONIC FATIGUE
WEAKENED IMMUNE SYSTEM (colds often)
BLOATING
CELLULITE
FAT POCKETS 
POOR DIGESTION
EDEMA & SWELLING
Encourage Lymphatic Fluid Movement & Reduce Water Retention & Bloat

The back of the glove is made of soft silicone; it could also massage your body while having a bath or shower.

Suitable for body parts including neck, arms, shoulders, legs, back, buttocks, chest and stomach.
ADD ONE DROPPERFUL TO YOUR BATH!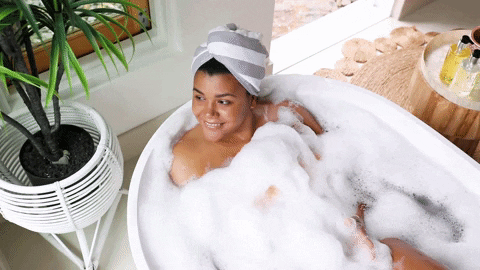 4 STEP ROUTINE | 4 MINUTES A DAY
Directions
Use anytime of the day or night.
It only takes 4 mins a day to give your lymphatic system the regeneration it needs.  
STEP 1 - Neck Lymph Nodes
Start at neck, behind ears and flow down into chest area.
 
STEP 2 - UnderArm Lymph Nodes
Move into underarms and flow towards heart.
 

STEP 3 - Digestive System
Move flow clockwise, helps encourage digestion system.

STEP 4 - Foot Lymphatic Drainage
Move lymphatic fluid upward against gravity.  Best outcome with feet elevated.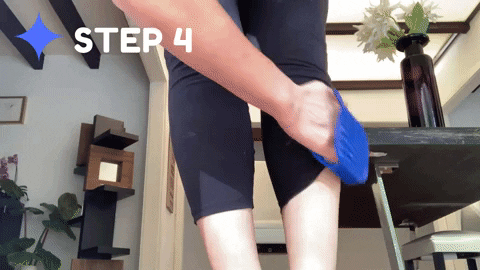 About the Lymphatic Gloves
Made from medical grade silicone, the Lymphatics gloves were designed to encourage lymphatic movement and blood flow.
Refresh and improve blood circulation
Reduce inflammation

Break up "pockets" of fluid and fat

Remove the lactic acid fatigue

Speed up immune response

Reduce the weight of fluid build up
The Soft Side
This side of the glove stimulates your parasympathetic nervous system which signals your lymphatic system to prepare movement.  This can produce an all over body "flush" and a warming sensation as your circulation deepens. When you activate your parasympathetic nervous system, you feel calmer and more relaxed, these endorphins also help in the movement of stagnant lymphatic fluid.


The Magnetic Ball Side
The magnetic balls are composed of the mineral hematite, they are designed to "charge" cells in the body. Hematite possesses natural anti-inflammatory properties and will assist in the regulation of the circulatory system. This side of the glove is responsible for "breaking up" the congestion in your lymphatics at a deeper level through the use of the magnets and the properties of hematite. You can add gentle pressure, no need to press down when painful.
Magnetic fields are everywhere, many originating from the earth. As humans, the blood flowing through our body is flowing through the Earth's magnetic field, which produces electromotive energy. These sources of magnetic fields can influence body function.

Magnet Therapy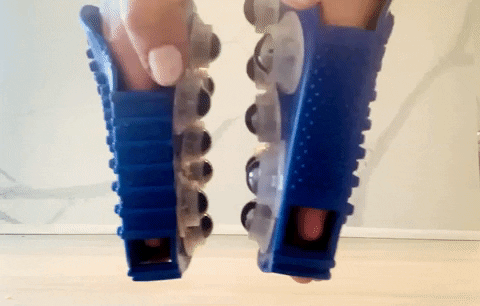 Dates back to Switzerland in the 15th century. Aristotle spoke of the use of magnets for healing therapy and " The Yellow Emperor's Book of Internal Medicine " China 2000 BC features magnetic therapies for healing imbalances and positively affecting the " life force " of the body. Cleopatra was rumored to have slept with magnets for rest and beauty.

Magnetic therapy realigns the electromagnetic charge in the body to promote self healing. The negative magnetic field heals by alkalizing the tissue and releasing oxygen from it's bound state back to it's molecular state. By returning tissue to a normal, healthy state, a negative magnetic field governs energy recovery, relieves inflammation, swelling, acidosis and accelerates healing.

Magnetic therapy is a powerful adjunct as it supports the body in maintaining it's natural alkalinity. The oxygenation of cells and tissues occurs in the presence of a negative magnetic field which begins the body's own healing process.
Use the magnetic ball side of the glove 
Start at your chest, flowing towards your heart.
Follow with arms, belly, buttocks then legs.
Start the sequence slowly, every second day.
Flu like and detoxification symptoms: runny nose, brain fog, tiredness, headache may occur when you begin to move the lymphatic fluid. 
Symptoms will decrease with usage.  
⭐️
REDUCE CELLULITE
⭐️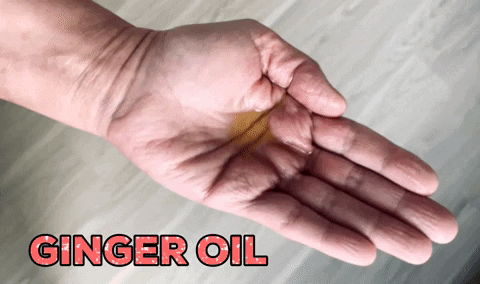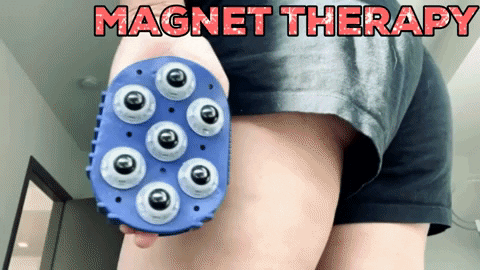 ADD MEDI-OIL OF YOUR CHOICE ~ 
GINGER DRAIN BATH BLEND MEDI-OIL®  ~ 

Ingredients: Ginger Oil, Chamomile, Lavender, Juniper Berry, Fennel
PAIN PATCH ARNICA BATH BLEND MEDI-OIL®  ~ 

Ingredients: Arnica Extract, Chamomile Oil, Lavender Oil, Sweet Almond Oil



STRESS LESS BATH BLEND MEDI-OIL®  ~ 

Ingredients: Lavender Oil, Marjoram Oil, Peppermint Oil, Sweet Almond Oil
SCAR SALVE BATH BLEND MEDI-OIL®  ~ 
Ingredients: Frankincense Oil, Geranium Oil, Lime Oil, Lavender Oil, Grapefruit Oil, Sweet Almond Oil
EACH KIT CONTAINS ONE MAGNETIC GLOVE AND ONE FULL SIZE 60ML OIL
One Meridian Magnetic Glove & Bath Blend Medi-Oil®